Probate valuation highlights – the Putney Bacchus
Deity discovered in Putney ….
Putney in southwest London was the site of a Romano – British settlement during the Roman occupation. So, it seemed a fitting location to discover such an important and valuable contemporary bronze study of the Roman deity Bacchus by the internationally renowned sculptor Rowan Gillespie. " it was fantastic to come across such a powerful and emotive work of art whilst carrying out a probate valuation, especially in Putney, with its Roman heritage, or Putelie as it's recorded in the Domesday Book," says Jonathan Roberts, Culvertons' furniture specialist and general valuer.
Rowan Gillespie – the early years
Rowan Fergus Meredith Gillespie was born in 1953, nowhere near Putney, but across the Irish sea in Dublin, Ireland. However, his early studies were on the mainland, at the York school of art and in the sculpture department of the Kingston School of Art where he was tutored for a while by the sculptor John Robson before leaving for Denmark to study at the Kunst og Handverke Skole in Oslo. Norway continued to be his home and location for many of his early exhibitions until his return to his land of birth, Ireland in 1977.
Influenced by the sculptor Henry Moore and the painter Edvard Munch, Rowan Gillespie uses the lost wax casting process to portray human emotions. From 1978 to 1986, he held many successful exhibitions in Ireland, at the Lad Lane and Soloman galleries, in Holland at the Galerie Husstege, and at the Jonathan Poole Gallery in London – which coincidently is the gallery that exhibited and sold the 17 1/4 inch high limited edition (no. 6 / 9) bronze study of Bacchus.
A pillar of the Putney community
Unfortunately, there is no documented chain of ownership, but it would be nice to think that this artwork's previous owner, a highly regarded and well-travelled lady who held high public office in the Putney area several times during her life, walked into the Jonathan Poole Gallery, and could not leave without buying Rowan Gillespie's moving and beguiling interpretation of Bacchus. "It appeared, because of its prominent placement within her home, that she really enjoyed living with this work of art."
SW15 to Dublin
As the demand for Irish works of art is predominantly homegrown, we decided it would be advantageous for Bacchus to be sold in Ireland. "We could have consigned it to a UK-based auction house and relied on collectors in Ireland to bid online. However a lot of information can be gained from viewing digital images, but being able to hold a work of art can ignite the senses, and loosen the purse strings."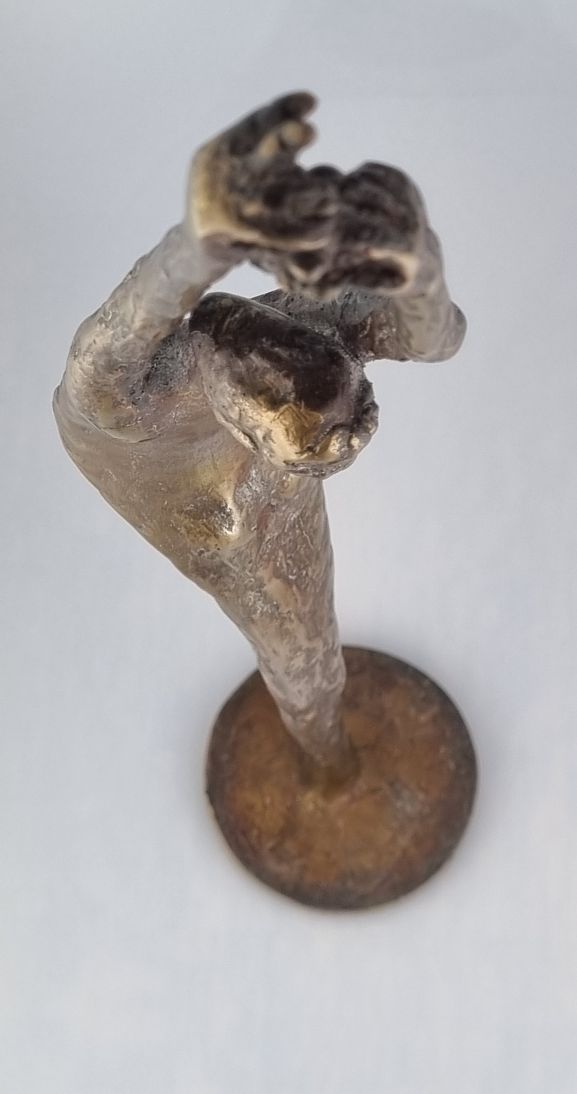 Customers who instruct us to undertake a valuation for the purposes of probate are eligible to make full use of our broad range of estate services, at no extra charge. The executors responsible for the bronze Bacchus, and the deceased's estate as a whole, took advantage of this offer and our expertise – Culvertons proceeded to work on their behalf to maximise the value of the contents.
After carrying out some research, we approached deVeres, one of the leading auction houses in the sale of Irish art, and negotiated a competitive rate of commission for the estate. Rowan Gillespie's study for Bacchus was securely transported from Putney to Dublin and consigned for sale.
There was more to Bacchus than wine, women, men & song
Bacchus emerged into the Roman religion after they took the mythology of the Greek god Dionysus and blended it with the Italian wine god Liber. There was a deeper more serious side to the worship of Bacchus, other than the traditional association with frenzied creativity, wine and drunken excess, which is related to birth & eternal life. The worship of the deity was more prevalent in southern Italy, and following their conquest, the Near East & Greek Regions of the Roman empire. However, statues of Bacchus and connected finds have been unearthed at the London Mithraeum, a short way along the Thames from Putney, as well as other locations in Leicestershire. This evidence has shown that there was also a following for the Bacchus cult in the London area, which may have even culminated in the dedication of a shrine in the fourth Century AD.
Rowan Gillespie – a global artist
Interest in acquiring Rowan Gillespie's artworks remains high and is reflected in the prices achieved when they come up for sale (in 2019, Bonhams sold a much larger (129.5cm high) version of Bacchus for £45,062 inc. premium). His 100% commitment to casting his sculptures is unique in the bronze casting fraternity and must be a contributory factor to his success – increasing the personal connection between the artist, artwork, viewer and potential purchaser.
Rowan Gillespie continues to live in Ireland and currently concentrates solely on fully site-specific art. Possibly his best-known series to date would be his Famine Trilogy, commemorative sculptures on Custom House Quay in Dublin, Ireland Park in Toronto and Hunter Island, Tasmania.
Sale day – Putney Bacchus goes under the digital hammer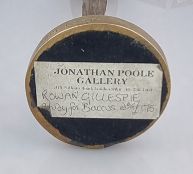 After being on view in deVeres impressive showrooms, the Irish art sale itself was to be held solely online, which, with no buyers physically allowed to be in the auction room, did feel a little unnerving. However, our concerns were totally unfounded as the sale was an unmitigated success, and Lot 45, Rowan Gillespie's study for Bacchus, realised €13,500 for the estate.
"On behalf of Culvertons and the representatives of the estate, I would like to thank Rory Guthrie and his team at deVeres for their help, for putting together such a wonderful sale and for giving us access to their established client base." ( John de Vere White & Rory Guthrie are deVeres' directors and auctioneers)