House clearance service: open your door to a wealth of expertise, help & support
Our house clearance service is available to anyone requiring a property cleared in an efficient, considerate, and environmentally friendly manner. In addition, we also oversee the clearance of deceased estates, which is just one of the services on offer to representatives, within our standard fee. As well as the valuing of moveable items (chattels) within the estate for the purposes of probate; arranging the sale of items, if not retained or bequeathed; the restoration and conservation of estate assets, plus co-ordinating any transportation needed.
Customers simply requiring a property clearance service (house, garage, storage unit, container or business premises) can still benefit greatly from Culvertons' broad range of expertise.
Costs and requirements
Culvertons' fees vary in line with each client's requirements –
Quantity and nature of items
Location of the property
Ease of access to the main property and ancillary buildings
Before undertaking any house clearance an on-site meeting with a client is required. This enables us to make a thorough assessment of what's involved and prepare an accurate quotation. With this forewarning, future planning becomes possible which in turn increases efficiency on the day of the clearance.
Customers requiring a quotation or need some help and advice are welcome to speak to a member of Culvertons' team via their contact page.
Our house clearance team will always endeavour to offer a positive service and outcome for all involved.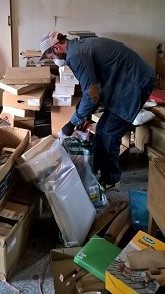 An environmentally friendly approach to house clearance
The experience, enthusiasm and ingenuity of Culvertons' workforce enable them to recycle the highest percentage of household goods possible.
Firstly, all metals, paper, glass, cardboard, and fabric, amongst other items, will be separated and recycled. Secondly, charities are often unwilling to accept furniture in poor condition, consequently, these items will be dismantled and the wood sent to local recycling projects or designated areas within commercial depots. Furthermore, Culvertons' actively look to purchase old timber, especially good quality hardwood. This enables their restorers to sympathetically repair the antique furniture that passes through the workshops.
Despite Culvertons' contemporary approach, their house clearance service remains competitive. As the cost of adhering to good environmental practices is nearly always on-par with commercial land-fill tipping fees. On an occasion where protecting the environment costs more than our quoted fees, they will pay the difference, not by the client or the planet.
Donation to charity: with planning, this can be a positive outcome for all parties.
Culvertons do not favour one particular charity, and will always take direction from our clients if they have a preference. Age UK, Oxfam, Cancer Research and several hospices, including St Peters & St James, have been major past recipients. Their capacity to house quantities and certain categories of clearance items often influences which charity we will service.
Items regularly donated to charity include –
Furniture – if it is in good condition
Soft furnishings – if they meet regulatory safety standards and are clean and in good order.
White goods such as washing machines and fridge/ freezers – if they are working and sound.
Household and personal items and of course books are all accepted – Culvertons have to date donated hundreds of thousands of books.
Televisions, hi-fi, lighting and sundry electrical equipment can also be donated to just a few charities as facilities to apply a government-required 'portable appliance test' to an item before re-sale are required.
Customer satisfaction is our primary goal
Culvertons' aim is that owners, beneficiaries and estate representatives can rest assured in the knowledge that personal possessions were treated with consideration and that the general contents were dealt with in an environmentally friendly manner.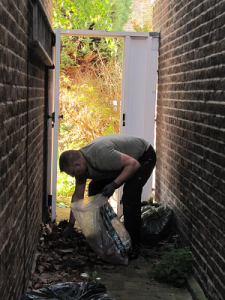 Do we provide a house clearance service in your area?
Culvertons offer its clearance service throughout central & southern England principally in Surrey, Kent, Sussex and Hampshire, including London.
How do I arrange a quotation?
If you wish to arrange a quotation, have a question about our services, or need some help and advice please visit our contact page.
What our clients say...
"Jonathan, Culvertons' general valuer, is totally trustworthy and a delight to do business with."
Tony & Jan - Ashtead, Surrey