Our antique arms valuation service travels to Kent
We offer an antique arms valuation service that is timely, efficient, and cost-effective, and invite institutions, businesses and private individuals to engage our expertise to establish accurate estimates of value. This information is vital when levels of financial protection need to be periodically updated and reviewed. It was for this reason that Culvertons received an instruction from Medway County Council to value the Guildhall Museum's collection. Our valuer found this an interesting challenge and one which required his considerable experience and wide-ranging knowledge.
A Culvertons' member of staff worked alongside our specialist, photographing and documenting the collection, whilst gaining an insight into some key points when valuing antique arms.
The Guildhall's collection of historic weapons
The antique arms held at the Guildhall Museum in Rochester comprise over 120 guns of varying age, condition, rarity and value. A rusty and battered Martini-Henry .303 adopted by the British Army in 1871, four exceptionally rare and interesting late 17th-century English dog lock muskets and a massive Japanese 'Tanegashima' matchlock musket are just a few examples that compete for the visitor's attention. They represent a snapshot of the vast array of offensive and defensive weapons invented and manufactured throughout history.
If you own historic weaponry and would like to learn more about its past, legality and value, our antique arms valuation service can be accessed via our contact page.
The services we offer to owners of historic weapons
Our experts will help clients navigate through this highly specialised market with discretion and impartiality. They will identify antique arms that have appeal and, if requested, give advice as to the most cost-effective route to take to maximize the revenue from the sale.
Executors, administrators and estate representatives can feel confident that we will prepare a valuation report on their behalf for submission to HMRC in a professional and sensitive manner.
Our antique arms valuation services are available to private individuals, businesses and institutions. If you possess a collection or a single weapon and would like to find out their value for financial protection purposes, please contact us.
Can I legally collect antique arms without a firearms licence?
When used in connection with firearms the term 'antique' does not mean they have to be over 100 years old. The age of a gun does not guarantee its legal status, and the 1968 Firearms Act should be consulted to clarify its legality. If you still need advice and reassurance then you are welcome to contact Culvertons.
In general collecting terms, antique weapons which fire a cartridge require a licence unless of an obsolete calibre. The Home Office issues a list of ammunition that is no longer factory-made and is classified as obsolete. Muzzleloading firearms manufactured prior to World War II can legally be bought and sold.
Changing the designation of an antique firearm from collector's item, curio or ornament to a working weapon requires a firearms certificate. An altered weapon can no longer be classified as original however a modified handgun can be re-classified as a prohibited weapon. It is illegal to source or make ammunition for obsolete calibre antique arms.
What are the current laws regarding collecting de-activated weapons?
The 'Police & Crime Act 2017' imposed a modified EU deactivation standard upon collectors in the UK. Essentially this new ruling has rendered pre-2016 deactivated firearms within the EU worthless. The ownership of deactivated firearms which were subject to previous standards is still legal, as long as you have the appropriate licences. However it is now illegal to transfer ownership of pre-April 2016 deactivated firearms by sale, swap, gifting or inheritance.
Selling or gifting deactivated firearms outside the EU when they have been licenced to an earlier standard is still legal. When issued with a museum firearm certificate a museum is also permitted to purchase and accept donations.
Executors and administrators of a deceased's estate need to be aware of these new laws. Deactivated firearms cannot be passed to a beneficiary unless they have been issued with this new licence. Other options are donating or selling them to a museum; or surrendering them to the police.
The penalties for infringing these laws can be severe and we urge interested parties to seek advice.
Antique arms – essential factors to consider
The open market value of antique arms is dependent on their condition, rarity, originality, and provenance. Ideally, a firearm should retain its original parts and any accessories should be contemporary with the time of its manufacture. If replacement parts are needed, they should only be sourced after careful research.
Like the movement and escapement of a clock, the firing action of a gun can undergo alterations and sometimes complete replacement. Flintlock mechanisms were often changed to percussion mechanisms. While this is part of the history of guns, such advancements are likely to have a negative effect on current and future value. A firearm returned to its original design will generally not reach the levels of value achieved for an untouched example.
A specialist restorer will carry out repairs and replace missing parts. Unfortunately, this niche profession is no longer attracting the younger generation, leaving only a few capable of undertaking such work. The process is time-consuming and costly. We advise you to carefully consider whether the gun warrants this attention and expense.

'Charcoal black', 'blueing', and 'case hardening' are all types of finishes applied to the metallic surfaces of a gun. Antique arms which retain their original surfaces will be more valuable.
Patination – the beauty of time
The wooden stocks of rifles and grips of pistols – like the arms of chairs – come into contact with the natural oils, sweat, and dirt of their owners' hands as well as waxes and lubricants used for gun maintenance. Over many years, this will impart a unique, irreplaceable patina onto the original manufacturer's surface and can increase the weapon's value and decorative appeal. If left unburnished, brass and especially bronze will also gradually take on a highly prized and lustrous depth of tone.
We advise owners of antique arms to seek expert advice before attempting to clean them.
Famous gunsmiths – unwavering excellence & provenance
Cutting-edge design and dependable quality using the very best materials are the hallmarks of top-flight gun makers. It is this consistency of manufacture that drove demand from the 18th Century aristocrat, often keen to survive a duel, to acquire examples of firearms by famous gunsmiths such as John Twigg, Robert Wogden, Joseph and John Manton.
Today well-heeled collectors and investors, not unlike their hot-blooded predecessors, do battle in salerooms around the world as they endeavour to obtain the very best antique guns. Competition is particularly fierce for exceptional examples with documented provenance. In contrast, there is less demand for antique arms by the more general, jobbing and prolific makers.
Antique gun cases are often attractive and finely made. Even when empty, cases will find buyers within the decorative antique trade. A cased gun will fetch a premium and the protection the case affords increases the chances of discovering a weapon closer to its original manufactured state.
Broadly speaking, which antique arms are particularly desirable?
Certain sectors of the market in antique guns attract stronger competition and interest than others.
Duelling pistols, such as the museum's fine pair of late 18th century octagonal barrelled examples by John Manton, have always had a lasting appeal and mystique. The finest examples fetch significant sums.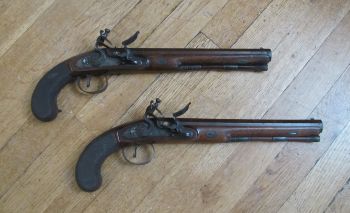 Collectors in the USA have a huge appetite for homegrown antique arms. Manufacturers such as Winchester, Remington, and Colt, produced some iconic weapons in the 19th century. The Guildhall collection's Winchester 1866 'Yellow Boy' saddle ring carbine is an example.
Custom-made and sometimes exquisitely decorated sporting guns by celebrated English makers, such as Purdey and Holland & Holland, continue to draw worldwide attention when they appear for sale.
Anniversaries of famous military campaigns and battles such as Trafalgar, Waterloo and The Great War heighten interest. Firearms, uniforms and ephemera relating to each conflict will often temporarily increase in value.
Culvertons' advisory service – helpful guidance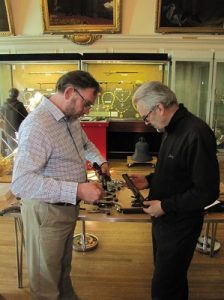 Finding an affordable cased firearm by a desirable maker with all its original parts and accessories, together with an unblemished manufacturer's surface is something of a pipe dream. However, a well-considered and informed purchase will enhance your collection and possibly increase in value over time. Our advice would be to carry out as much research as possible before seeking out the very best example within your budget. Culvertons welcomes enquiries from clients wishing to start or enhance their collection.
Do we provide valuation services for antique arms in your area?
Culvertons offer its valuation service throughout central & southern England principally in Surrey, Kent, Sussex and Hampshire, including London.
How do I arrange a quotation?
If you wish to arrange a quotation, have a question about our services, need some help and advice or would like to send us an image please visit our contact page.