Our furniture reupholstery service is a team effort
Furniture reupholstery is one of the most interactive and satisfying services we offer due to the amount of teamwork required, particularly for antiques. Restoring and repolishing are almost always necessary for chair and sofa frames following years of use. The refurbishment, replacement or even remaking of castors is also often required.
Once the restoration has been completed, our team will start to re-upholster using, where possible, the superior original materials such as the springs and horse hair or high-quality modern equivalents. Finally, the covering, often chosen by the owner, is put in place along with any braid, piping or studding as required.
To achieve the best results for customers, we bring together an experienced and skilled team of restorers, upholsterers, and specialists. Furniture reupholstered by us will offer comfort, support and pleasure for many years to come.
How do I arrange a quotation for the reupholstery of some furniture?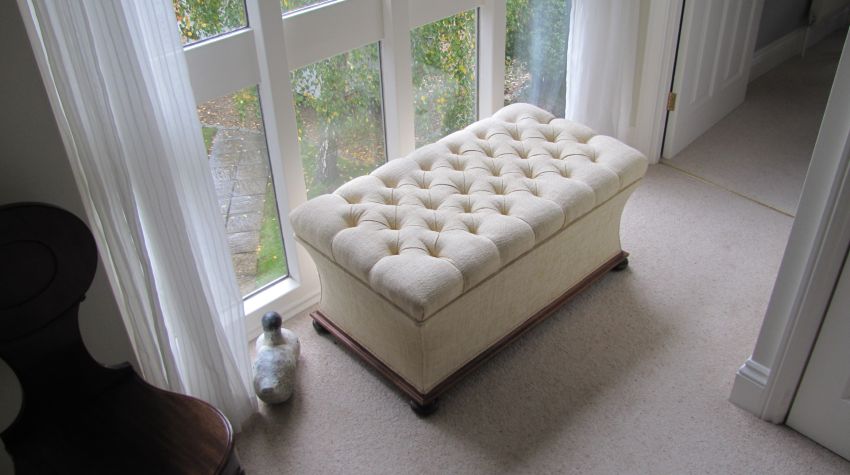 Preparing a quotation is always the first stage before any work is undertaken for a client. All you need to do is contact us, and we will –
make an appointment via our contact page to visit your home or business at a time that's convenient to you.
assess the piece of furniture that needs reupholstering.
listen to your ideas regarding the fabric you would like us to use and offer guidance on its suitability for upholstery, and if required we can supply you with the contact details of trusted fabric suppliers.
invite questions and provide you with an appraisal of the overall condition of your antique soft furnishing, the work required, and how long it will take to reupholster.
shortly after our meeting and consulting with the upholsterer we will let you know the quantity of fabric needed – the amount required can be easily re-calculated to reflect the type of fabric chosen.
send you our prepared quotation within fourteen days.
Once a quotation has been accepted we request a payment of 50% of the quoted amount prior to undertaking any furniture re-upholstery.
The reupholstery of period furniture – the benefit of recycling superior craftsmanship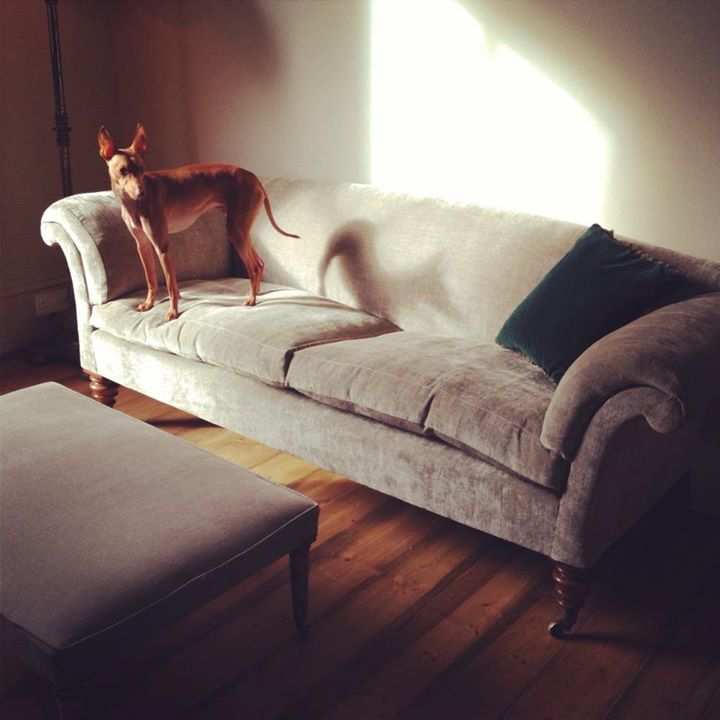 Many of today's most popular sofas and chairs follow 19th and early 20th century designs by celebrated makers, such as George Smith, Howard & Sons and Liberty. By refurbishing an antique you will not, as some suggest, be choosing a less fashionable option. On the contrary, there is strong demand for old, reupholstered furniture that complements current decorative tastes.
There are other benefits in addition to aesthetics. Upholstered antique furniture can be restored and reupholstered in the fabric of the day, time and time again. This is due to the high-quality materials that were expertly and routinely used when originally manufactured.
In comparison, there is very little to commend in modern production line copies. Firstly, due to cost, time and material constraints, initial support and comfort can often be short-lived. Secondly, they are often constructed to discourage future repair or refurbishment. Finally, the resale value of contemporary soft furnishings is a fraction of their initial cost, if they have any residual value at all. In comparison, well-chosen antique equivalents that complement contemporary interiors will always be sought after.
I am interested in learning more about this service – what should I do?
If you would like to speak to us about our furniture reupholstery service please visit the contact page. We will happily answer any questions you may have and discuss your requirements. To enable us to provide more informed advice images of your furniture by email would be helpful, but this is not essential.
Leather upholstery – we can repair and revive or completely re-cover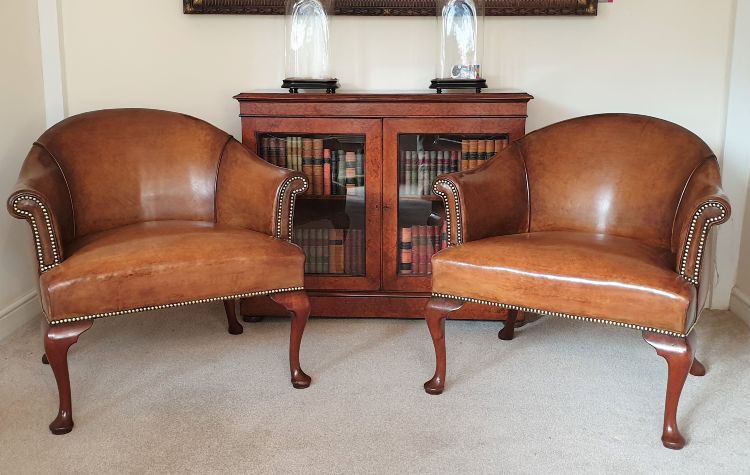 After years of normal use and a little care, leather upholstery, when compared to fabric, will continue to look more inviting and attractive. This is due to a combination of factors. Firstly, over a period of time, exposure to a little sunlight will subdue and visually improve uniform pre-coloured leather, giving it a more attractive three-dimensional appearance. Secondly, our bodies and clothes impart natural oils when they come in contact with leather, enhancing the surface colour and providing a degree of protection (regularly feeding the leather with a proprietary balm will also keep it supple and give it a pleasing depth of tone). Lastly, as with own skin, a myriad of lines appear with age, enriching the unique natural character of the leather.
Our team of furniture reupholstery specialists is very adept at using new leather which they skillfully hand-colour and age to make it look genuinely old. Alternatively, old leather chairs or sofas that have seen better days, can often be restored and revived to their former glory.
Do we undertake furniture reupholstery in your area?
We offer our services throughout central and southern England: principally in Surrey, Sussex, Kent and Hampshire, including London.
What our clients say...
"Dear Jonathan, Max and I are absolutely speechless. What an amazingly wonderful job you've done on our panelling. It is superb, absolutely superb. We're more than delighted. It was slightly sad coming home to find all your tools and equipment gone. We've enjoyed having you in the house and will miss you. I'll email you again soon to arrange a time for you (and your daughter) to come for tea to see how the house looks when it's all back in order. Thank you so very much for your hard work, perfectionism and friendliness."
Shannan & Max